To demonstrate excellence in the level of financial services provided to our public customers, elected officials, and the City of Sanford and its departments, while maintaining prudent use of financial resources in compliance with all associated laws, regulations and policies.
Ms. Lindsay is a graduate of the University of Central Florida with a B.S. in Accounting and a M.S.T. in Taxation. She is a Certified Public Accountant as designated by the State of Florida and a Certified Government Finance Officer as designated by the Government Finance Officers Association. She is a member of the Government Finance Officers Association(GFOA), the Florida Government Finance Officers Association, and the Central Florida Chapter of the Government Finance Officers Association and volunteers through the GFOA as a Comprehensive Annual Financial Report reviewer. Ms. Lindsay was appointed Director of Finance in October 2010.
Department Responsibilities
The Financial Services Department administers Accounting and Treasury functions, Debt Management, Financial, Grant Compliance, Budgeting, Purchasing, and Information Technology Services for all City departments.
In its accounting and treasury, debt management, budgeting and financial and grant compliance capacities, the Finance Department must ensure complete and accurate accounting of all transactions, and reporting of all financial information in accordance with professional accounting standards and federal, state, and local laws. This division handles the payroll for all City employees, pays all invoices for goods and services used by City departments, records and tracks fixed assets, monitors grant funding and manages the City's investing and borrowing activities. Finance also coordinates the Comprehensive Annual Finance Report, which is part of the City's annual, independent audit process. The Finance department also assumed the duties of the Budget Department starting with fiscal year 2011 and as such administers the City's budget process as well.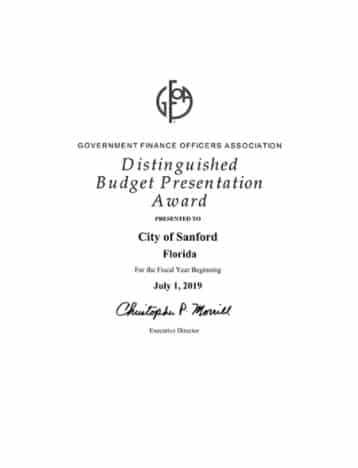 Budget Award!
Sanford was awarded the
GFOA Distinguished Budget Award.
The Finance Department is responsible for the preparation of the City's annual budget. The budget process starts in February and ends in September, with the budget being effective October 1 of each year.
The Finance Department has several years of budgets available electronically on the website.  Click on the links below to download electronic budget documents.
State law requires that all general purpose local governments publish, at the close of each fiscal year, a complete set of financial statements presented in conformity with generally accepted accounting principles (GAAP) and audited in accordance with generally accepted auditing standards by a firm of licensed Certified Public Accountants.  The goal of the independent audit is to provide reasonable assurance that the financial statements of the City are free of material misstatement.
2021 Annual Comprehensive Financial Report………………………………………………………….
2020 Annual Comprehensive Financial Report………………………………………………………….
2019 Annual Comprehensive Financial Report………………………………………………………….
2018 Annual Comprehensive Financial Report………………………………………………………….