What is My Brother's Keeper (MBK)?
My Brother's Keeper is an initiative created by President Barack Obama in February of 2014 to address the disparities that boys and young men of color are faced with on a daily basis. This population is ranked least likely to graduate and succeed in life as evidenced by 23.3% of Hispanic & Latino Americans, 25.8% of Black Americans, and 27% of American Indian & Alaskan Native Americans (AIAN) currently living in poverty, compared to 11.6% of White Americans, according to the My Brother's Keeper Task Force Report given to the President in May of 2014. This report highlights a great many facets about the challenges this population must struggle against and overcome to be successful.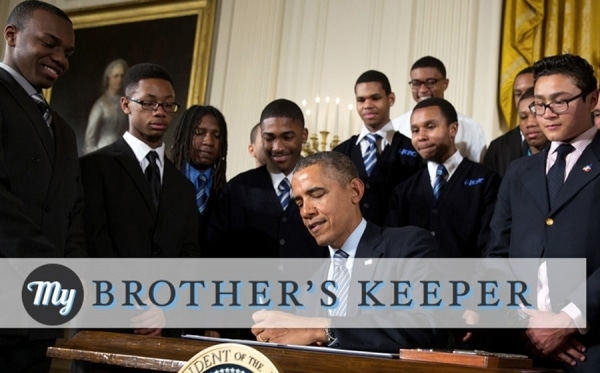 How is Sanford connected to the MBK Initiative?
When this initiative was placed into action in 2014, the President of the United States challenged the communities of the nation to adopt six milestones and to locally improve the outcomes for their boys and young men of color.
These six milestones are:
1. Getting a Healthy Start and Entering School Ready to Learn.
 All children should have a healthy start and enter school ready – cognitively, physically, socially, and emotionally.
2. Reading at Grade Level by Third Grade.
All children should be reading at grade level by age 8 – the age at which reading to learn becomes essential.
3. Graduating from High School Ready for College and Career.
All youth should receive a quality high school education and graduate with the skills and tools needed to advance to postsecondary education or training.
4. Completing Postsecondary Education or Training.
Every American should have the option to attend postsecondary education and receive the education and training needed for the quality jobs of today and tomorrow.
5. Successfully Entering the Workforce.
Anyone who wants a job should be able to get a job that allows them to support themselves and their families.
6. Keeping Kids on Track and Giving Them Second Chances.
All youth and young adults should be safe from violent crime; and individuals who are confined should receive the education, training, and treatment they need for a second chance.
A personal message to the Sanford MBK
-Michael Smith, Executive Director from the Obama Foundation MBK Alliance
Where do we go from here?
One of the local Clergy, Pastor Lowman Oliver and a local businessman, John Wright following the My Brother's Keeper initiative contacted the City of Sanford, expressing their concerns of the dropout rates of youth of color and their continued over-representation in the criminal justice system. The City researched the initiative and appointed Andrew Thomas, the Community Relations and Neighborhood Engagement Director, to develop an exploratory committee into My Brother's Keeper. This committee evolved into what is now known as the Sanford-Future Claimers (SFC).
The Sanford-Future Claimers meet monthly to discuss how our community will pave the way for our young men of color to succeed beyond high school and into a prosperous career. If you are interested in becoming a stakeholder with the SFC or would like to know more information about My Brother's Keeper initiative here in Sanford, please contact Nicole Osburn via email at nicole.osburn@sanfordfl.gov or call (407) 688-5132.
MBK Advisory Board Meetings