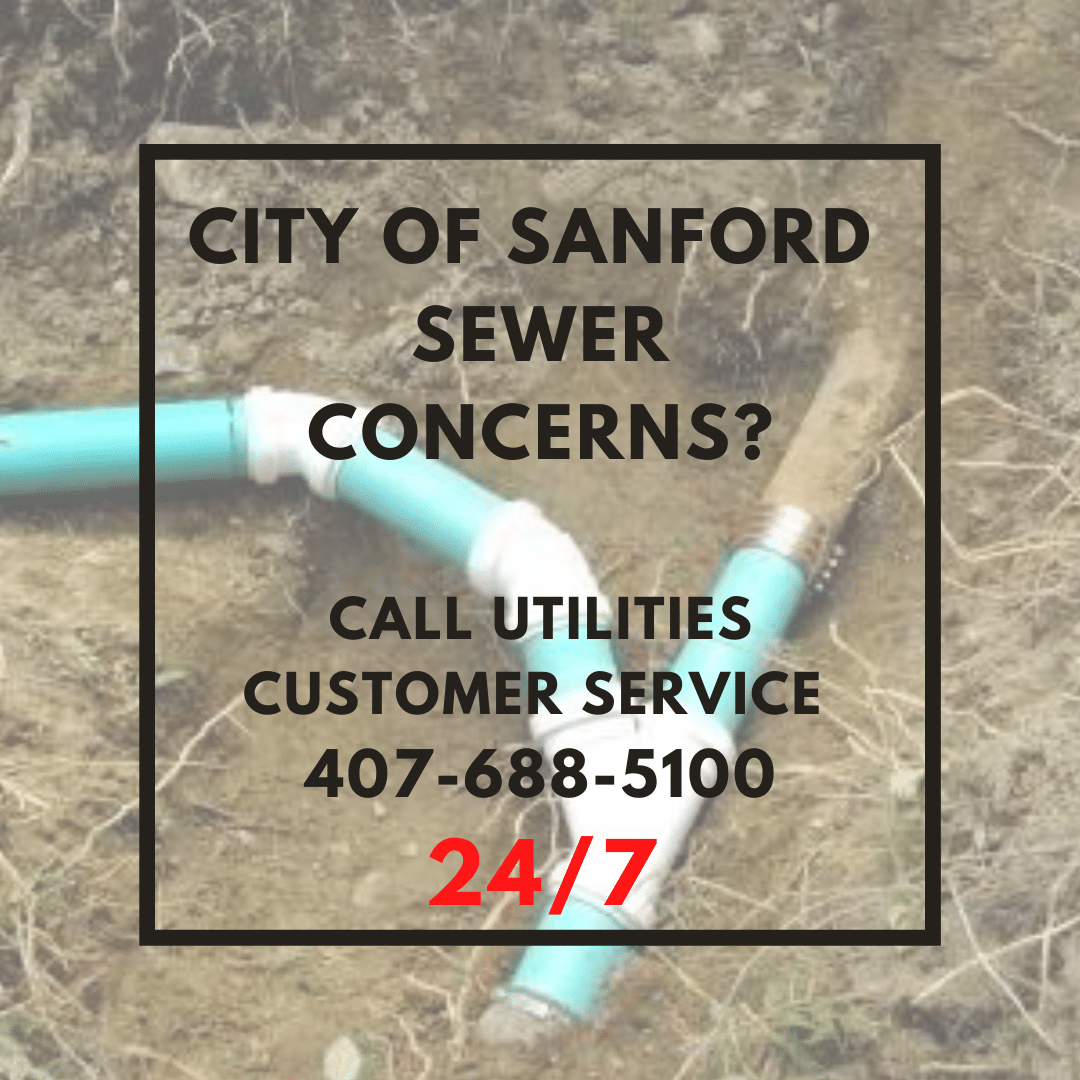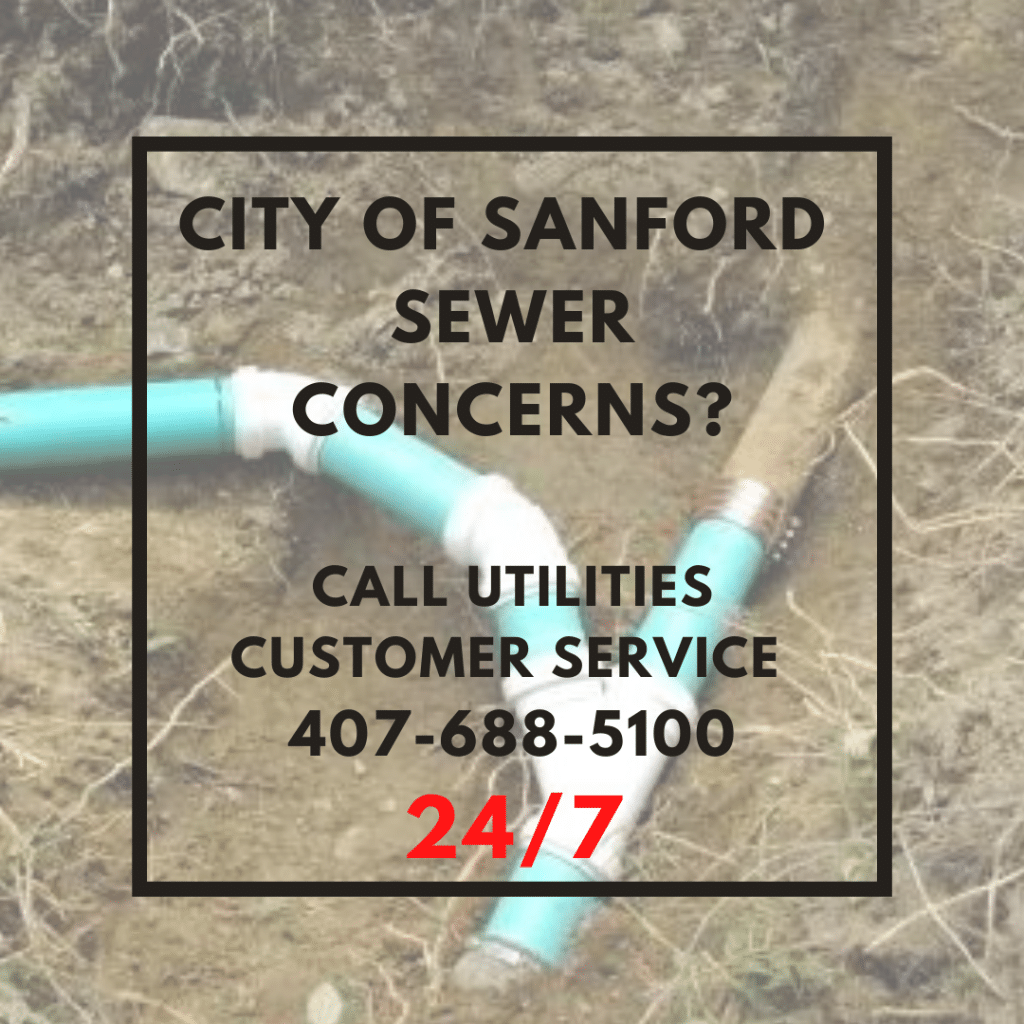 A Message from Mayor Woodruff
On behalf of the City of Sanford, I would like to apologize for the hardship experienced by those in our Downtown area who are connected to our vacuum sewer system and who are experiencing system failures. We understand you expect dependable utility services.
As a result of Hurricane Ian and Hurricane Nicole, the City of Sanford was not prepared for the level of failure that occurred in the last few months. The amount of water the storms produced resulted in the City's vacuum sewer system not functioning properly.  City staff crews have been working tirelessly, struggling to keep the system operating at even a minimal level. When you see them, please thank them.
We are replacing parts and upgrading the system as quickly as parts are available. Our intent is to replace all of the control systems in each of the nearly 500 vacuum pits, add an additional vacuum pump, and remove several heavy users from the system to free up capacity. 
The City of Sanford expects to have this completed by late 2023/early 2024. Please be assured we are working as hard as we can to correct this situation. 
For additional information visit the City's website page "Vacuum Sewer" at Vacuum Sewer | Sanford, FL (sanfordfl.gov) or  https://sanfordfl.gov/government/public-works-utilities/water_and_sewer/vacuum-sewer/. 


To report a problem call our 24 Hour Utilities Customer Service Line at 407-688-5100.
We appreciate your understanding.
   Mayor Art Woodruff
Vacuum Sewer System Emergency Project
Information related to the City of Sanford's ongoing project. 
Approval/Adoption of Resolution No. 2023-3112,a uthorizing emergency procurements.
Designate a call line for the Vacuum Sewer after hour Calls ( 688.5100 )
Utility City Staff working overtime to pump down and maintain vacuum system every week
Consultant Designing a of small lift stations to move 3 commercial  customers off the vacuum sewer system (estimated cost  $96,575)
Submit the Purchase Order Requisitions following State and City procurement policy

Repair Parts                        $674,454
Additional Parts                $40,481.17
Vacuum Pump                   $249,000
Training                                $61,250
TOTAL $1,025,185.17 (Estimated total)

City Staff has reprioritized ARPA (American Rescue Plan Act) and SRF (State Revolving Funds) to utilize for Emergency Vacuum Sewer System repair.
Vendors for related services

Pump Downs
TV Lines
Line Repair

Leasing of Vac Trucks when some go off line
Consultant design of Vacuum Sewer Pump Station Improvements
Research a vendor Piggy Back or Joint Utilization Agreement
Installation of 4 small downtown lift stations late Fall 2023
Adding temporary contract employee
Contracting with a Project Manager to coordinate the Vacuum Sewer System Action Items
Frequently Asked Questions
We would like to answer some common questions about the City's ongoing emergency project for the Vacuum Sewer System repair and maintenance. 
The sewer vacuum system remain 100% functional. Next week we plan on evaluating the mains and pits. Telemetry of the system continues, which assists us greatly in remote evaluation of its functionality.
The vacuum system is under full vacuum except Main 5, from 18th to 22nd Street, along Palmetto and Sanford Avenue. All levels are green, or operational, at this time. Staff rebuilt an additional 10 pits and 1 buffer tank. We received 100 new valves and controllers yesterday, and staff will start rebuilding an additional 100. Also, we plan to smoke test the area from 18th to 22nd Street, along Palmetto and Sanford Avenue this week to help locate the break still impacting customers in that area.
The vacuum system is still making forward progress.  The attached pictures show valves and controllers that have been removed from the system and will be rebuilt in the future.  The last picture is a great find for direct inflow that was coming directly into a buffer tank.  The system is still  operational throughout its entirety with the exception of Main 5 from 18th to 22nd Street. 
Staff has already excavated 2 areas that were thought to be where breaks could be but has not been able to locate the failure as of yet.  More locates will be set to investigate another area of interest.  With the rain events that we experienced this week, the system preformed with no reportable issues.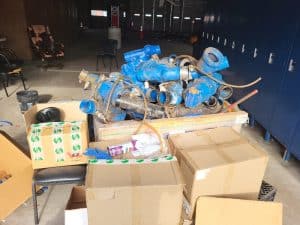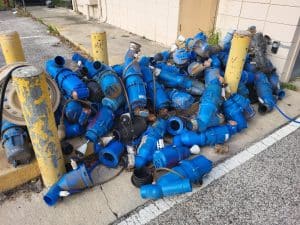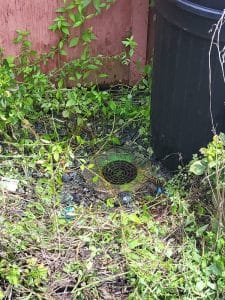 Currently all of the system is online with the exception of the end of main 5, which is from 18th to 21st St.
Staff excavated around the area on Tuesday but is still investigating a break in the system. No break was found in the area.
Work will continue next week.
2100 Block of Sanford Avenue and 1900 Block of Palmetto Avenue will continue to be pumped at least twice a day until we can find the break and make repairs.
No vacuum calls for the last two nights, and there has been a great reduction in overtime hours.
Staff rebuilt about 10 valves to install on Thursday
40 controllers were delivered from FLOVAC
Vacuum Main #5 at 18th Street is still down – possible break. Gate valves have been bought in and will be deployed next week.
Vacuum Main #1B will be up by the end of day today
Vacuum Main #1A is online to 11th Street.
Vacuum Main #1 is online to 8th Street.
Vacuum Mains 2, 3, 4, and 5 are Online.
Vacuum Main #6 is online to 8th Street and Palmetto Avenue.
Tomorrow the crews will be doing rebuilds.
Thirty valves were rebuilt this week.
Three Public Works employees will be assisting tomorrow.
Improvements to the vacuum sewer system are happening daily.  Staff is installing new equipment as it is received, with 120 full valve sets installed with a new delivery to be installed starting next week.  There is an updated map which shows significant improvements on the vacuum sewer main between Sanford Ave and Palmetto Ave, between 8th St and 14th St.  In addition to replacing equipment inside the valve 'pits', staff has tracked down and repaired two vacuum main breaks in the buried pipeline system.  Every valve replaced and every vacuum main break repair increases the stability and reliability of the entire system.  If you are still having sewer backups, please do not hesitate to call and please know we are working hard to restore every customer to full service.
Staff continued to make progress bringing individual vacuum pits to working condition by inspecting, replacing parts as needed, and testing the operation of the units.  While we still have much work to do, 80% of the vacuum system is operating normally.  Our 'pump-down' staff has increased by utilizing employees from other departments, as well as third-party vendors.  Areas that are still having issues will be pumped down regularly and our goal is to be there before you need us, but if you are having an issue at your location please do not hesitate to call our customer service number, 407-688-5100 available 24-hours/day.  With every repair, our system is tighter and more reliable for the entire vacuum sewer service area – these improvements are positively impacting customers, confirmed by reduced customer service call volume.  More to come next week.
City Staff and our vendor have been working diligently to troubleshoot, repair, and/or replace parts of the vacuum sewer collection system. Staff has focused on bringing the most customers online as quickly as possible; however, there are still areas that are in a 'failed' state and are continuing to be pumped down manually.  The good news for those still in the 'red/incomplete' zones as depicted in the map (linked here) is that our pump-down staff can focus on a smaller area and we anticipate much shorter response time to customer calls.  The City's focus is now on these remaining areas to bring them to an operational state as soon as possible.  While we work on getting these last areas operational, other phases of the project are in motion to reduce the load on the vacuum sewer and increase reliability of the vacuum pump station.
Flovac started evaluation and installation work on Wednesday, March 8.  The Gateway was installed this morning on the Elevated Water Tank next to the baseball field on Mellonville Avenue.  The Gateway is part of the telemetry system that will help areas of direct inflow and infiltration, check vacuum pressures and troubleshoot the system wirelessly.   The monitoring equipment will start being installed in the field once locates have been cleared for digging.  City staff along with Flovac's staff have started troubleshooting different pits, buffer tanks and mains.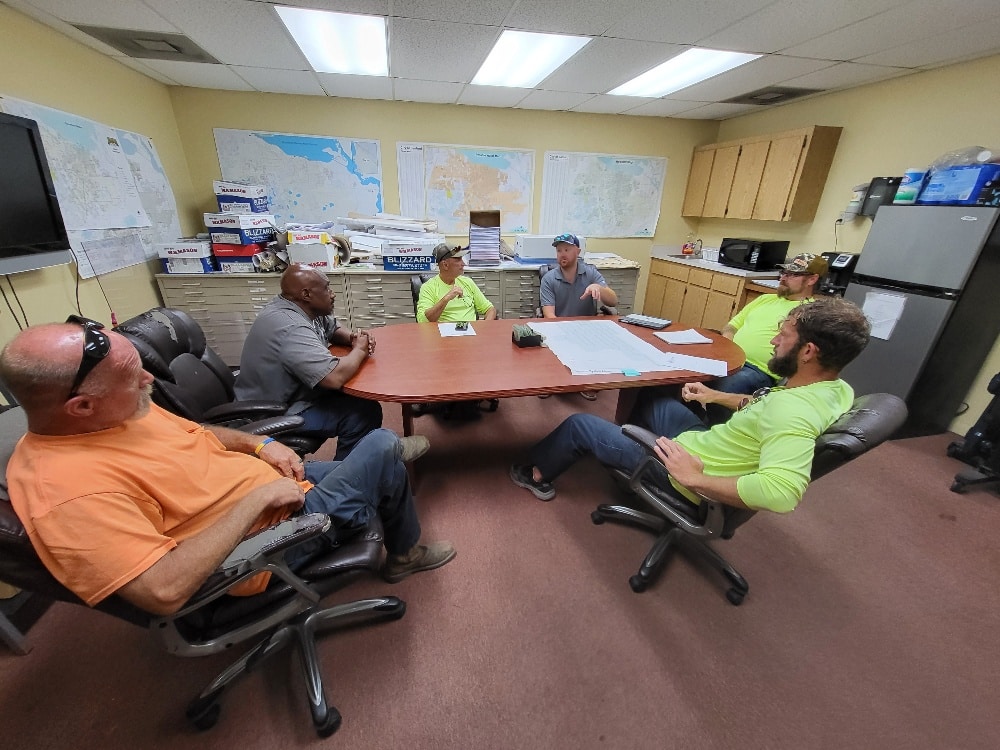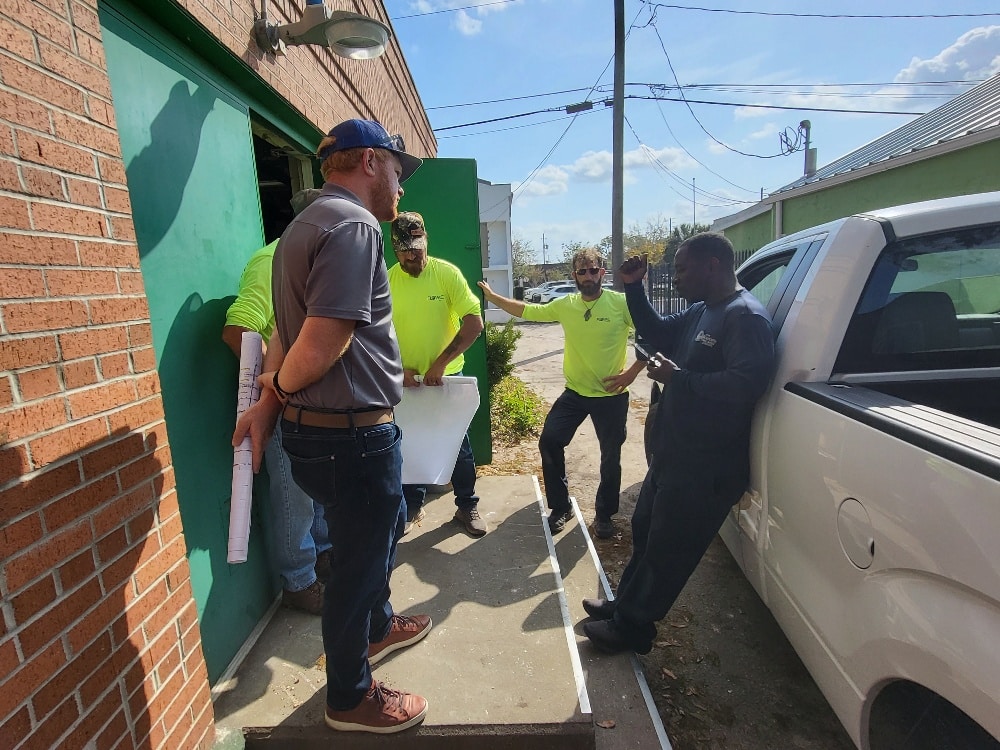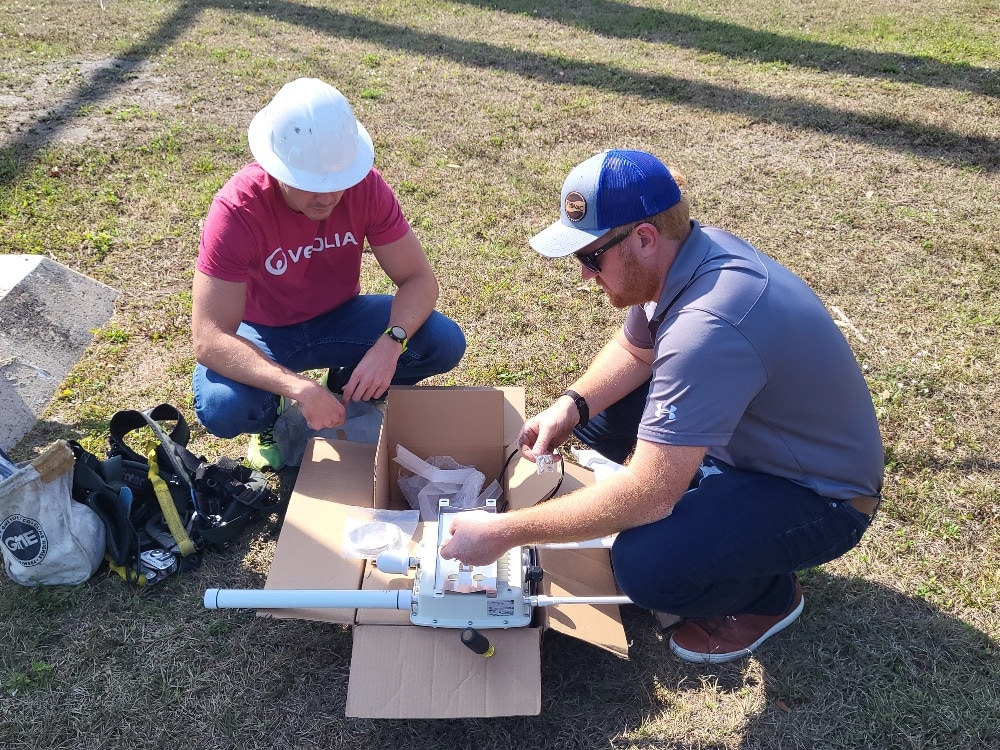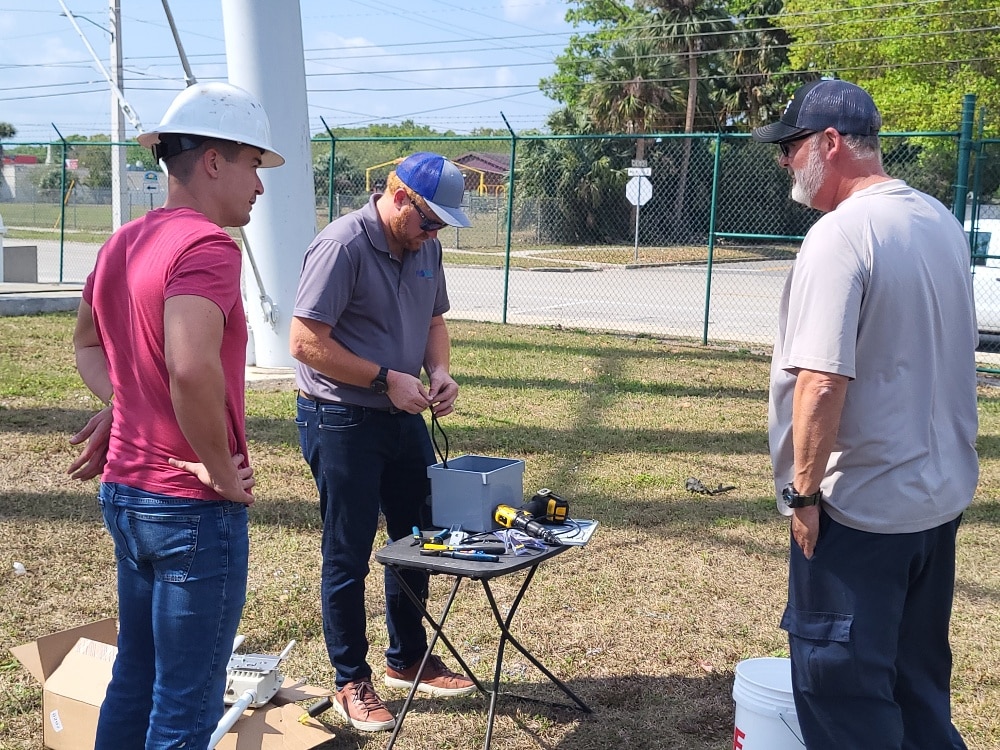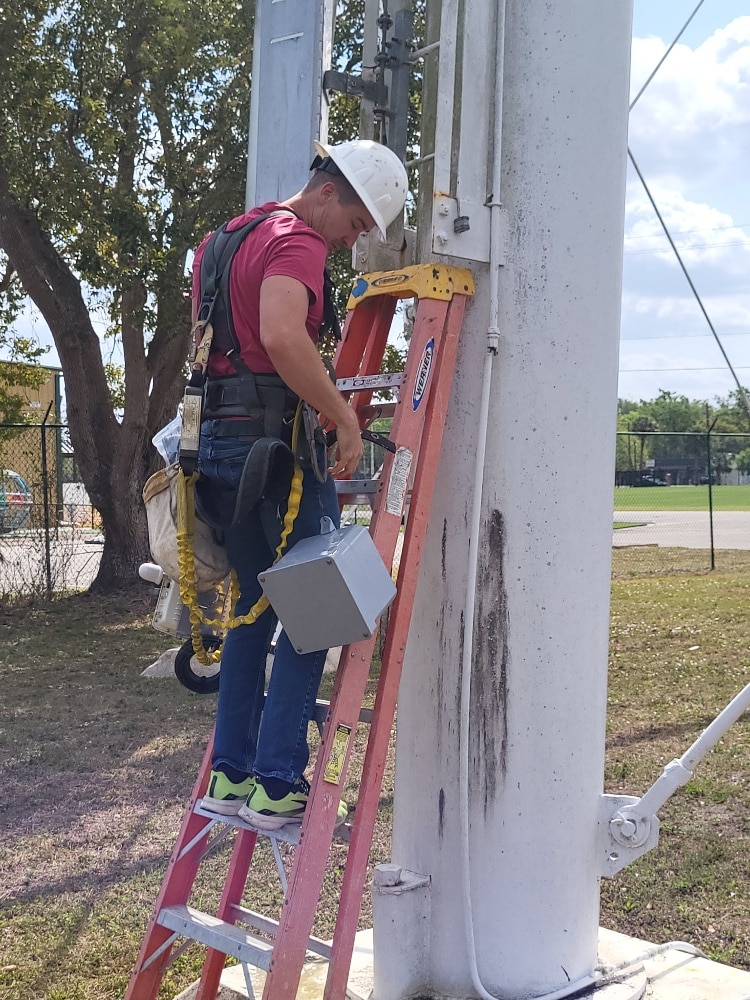 Vacuum Sewer 101
Cedric Coleman, City of Sanford Utilities Operations Manager has taken time out of his busy schedule to sit with us and share expert information about the City of Sanford's vacuum sewer system.