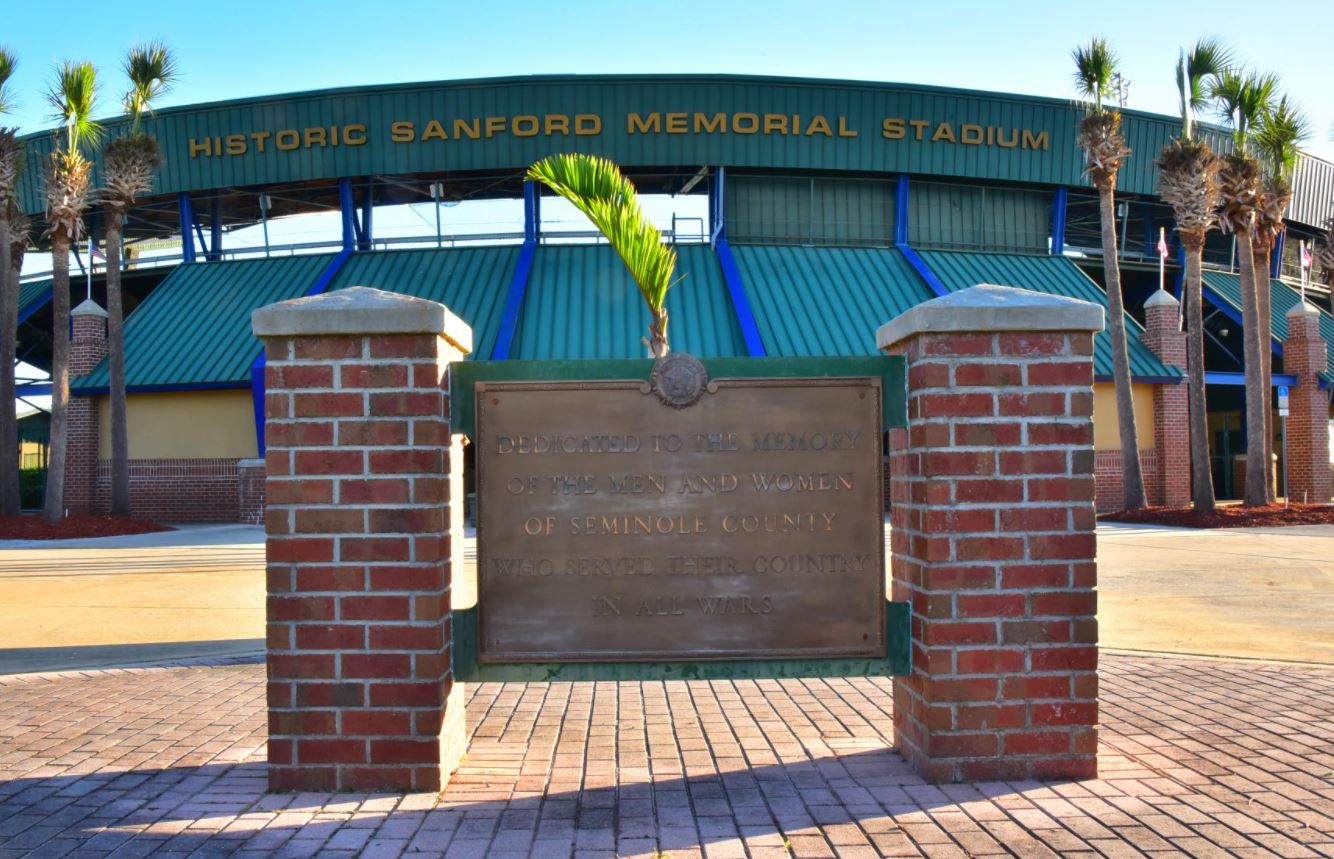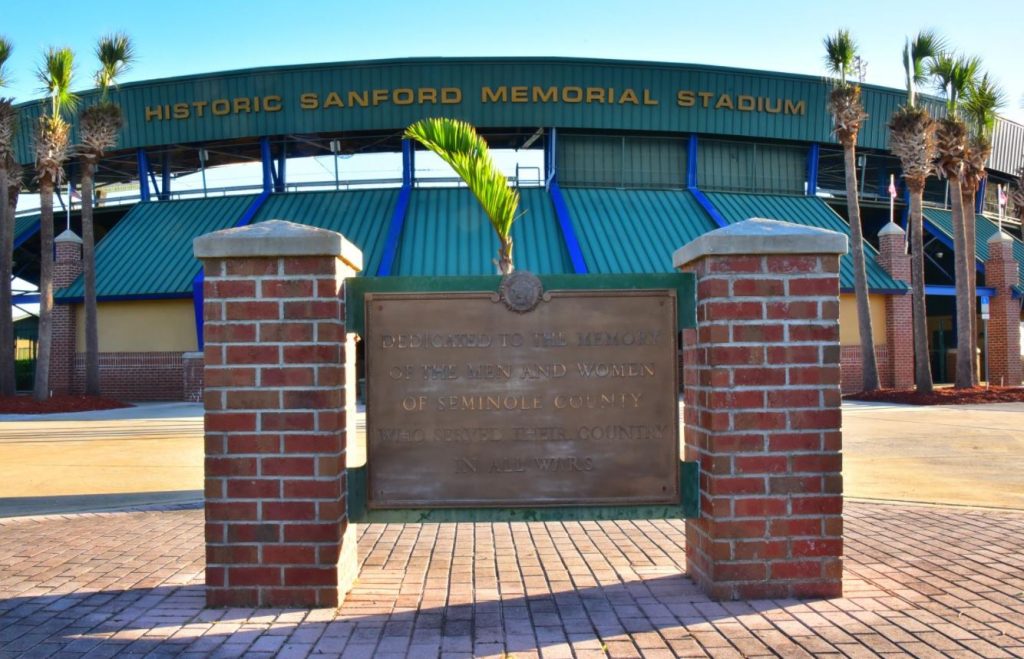 Memorial Stadium Location:
1201 S. Mellonville Avenue
Sanford, FL 32771
407.688.5198
Phone: 
407.688.5000 ext: 5604

Historic Sanford Memorial Stadium is the home of Sanford Babe Ruth Baseball and the Sanford River Rats of the Florida Collegiate Summer League. The ballpark is located just south of Lake Monroe on Mellonville Avenue, less than a mile from Historic Downtown Sanford.
Baseball and Sanford go way, way, back! Some of the great players who passed through Sanford were Early Wynn, Jackie Robinson, and Willie Mays. Still others, such as MLB's career stolen base leader Tim Raines, former Anaheim Angels World Series MVP,  David Eckstein and Hall of Fame announcer Red Barber called Sanford Memorial Stadium home long before they became household names. Perhaps the next Hall of Famer is playing on the historic field this week? Check out the schedule and come to the ballpark and take in a game or two, who knows, you may see the next Hall of Famer beginning a career.
Sanford Memorial Stadium is a non-smoking facility. Stadium amenities include locker rooms, press box, concession stand and is a gated facility. No coolers, food or pets are permitted inside the stadium.
If you have any questions please contact: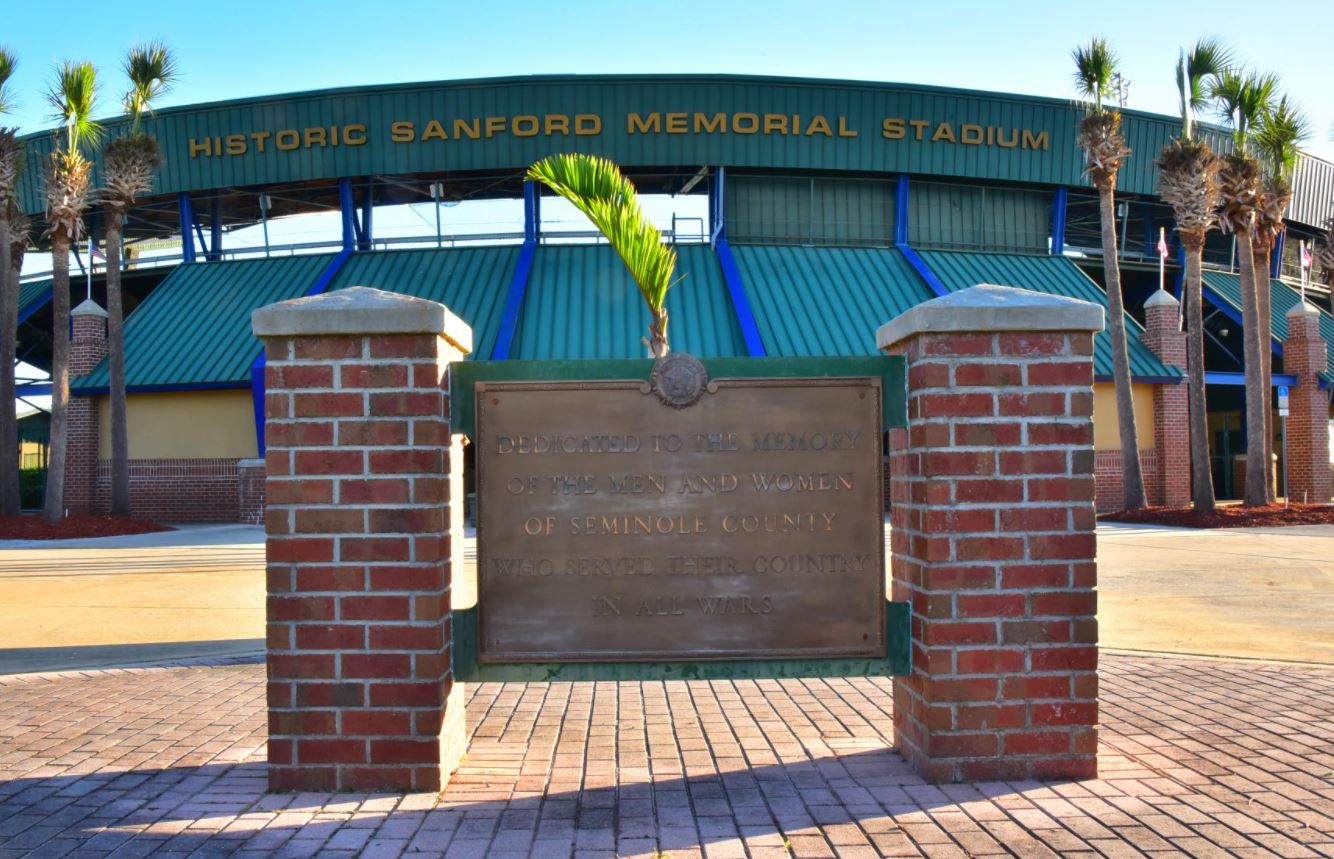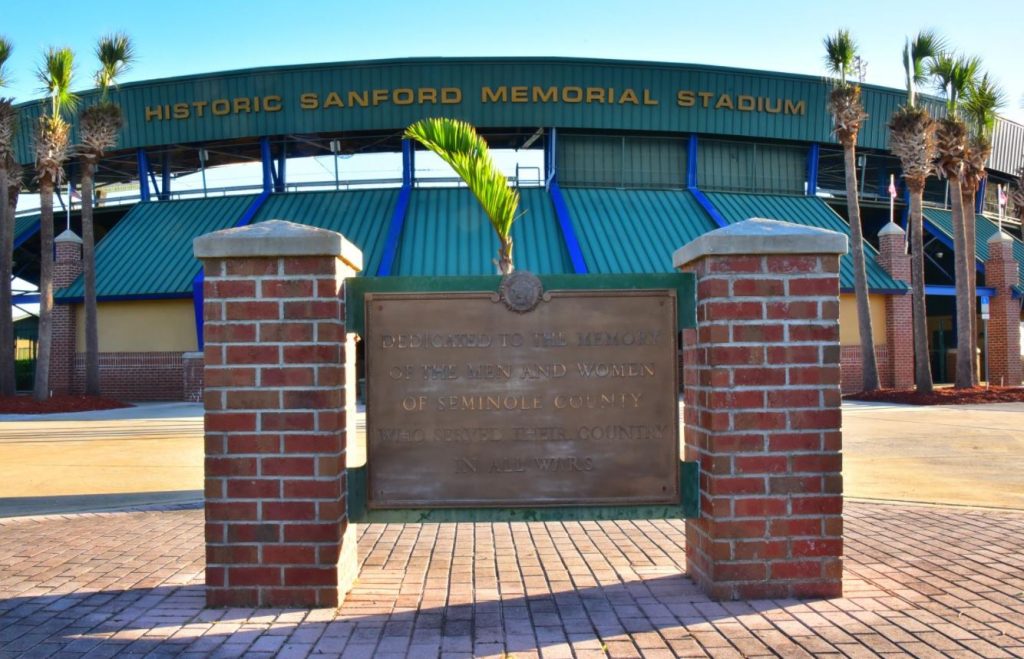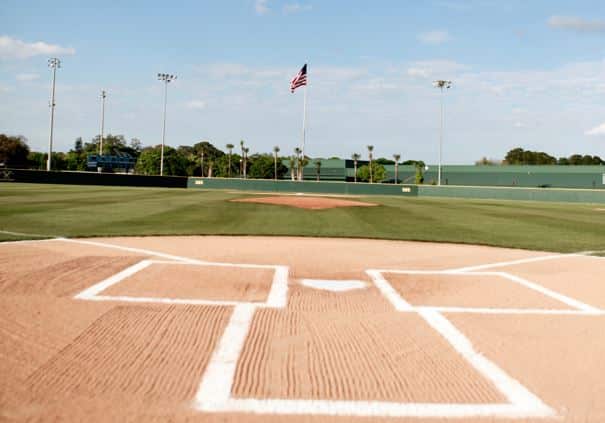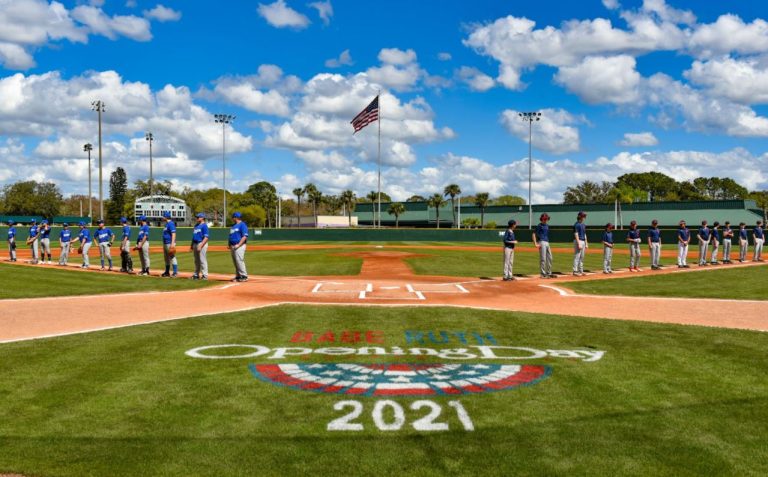 Florida Collegiate Summer League
The Florida Collegiate Summer League (Florida League) is a wood bat baseball league with six teams in Central Florida. Founded in 2003, the Florida League provides a valuable opportunity for college players to play wood bat baseball against top-level competition with the goal of preparing them for a career in professional baseball.

Sanford Memorial Stadium is host to two local teams – The Sanford River Rats and the Seminole County Snappers.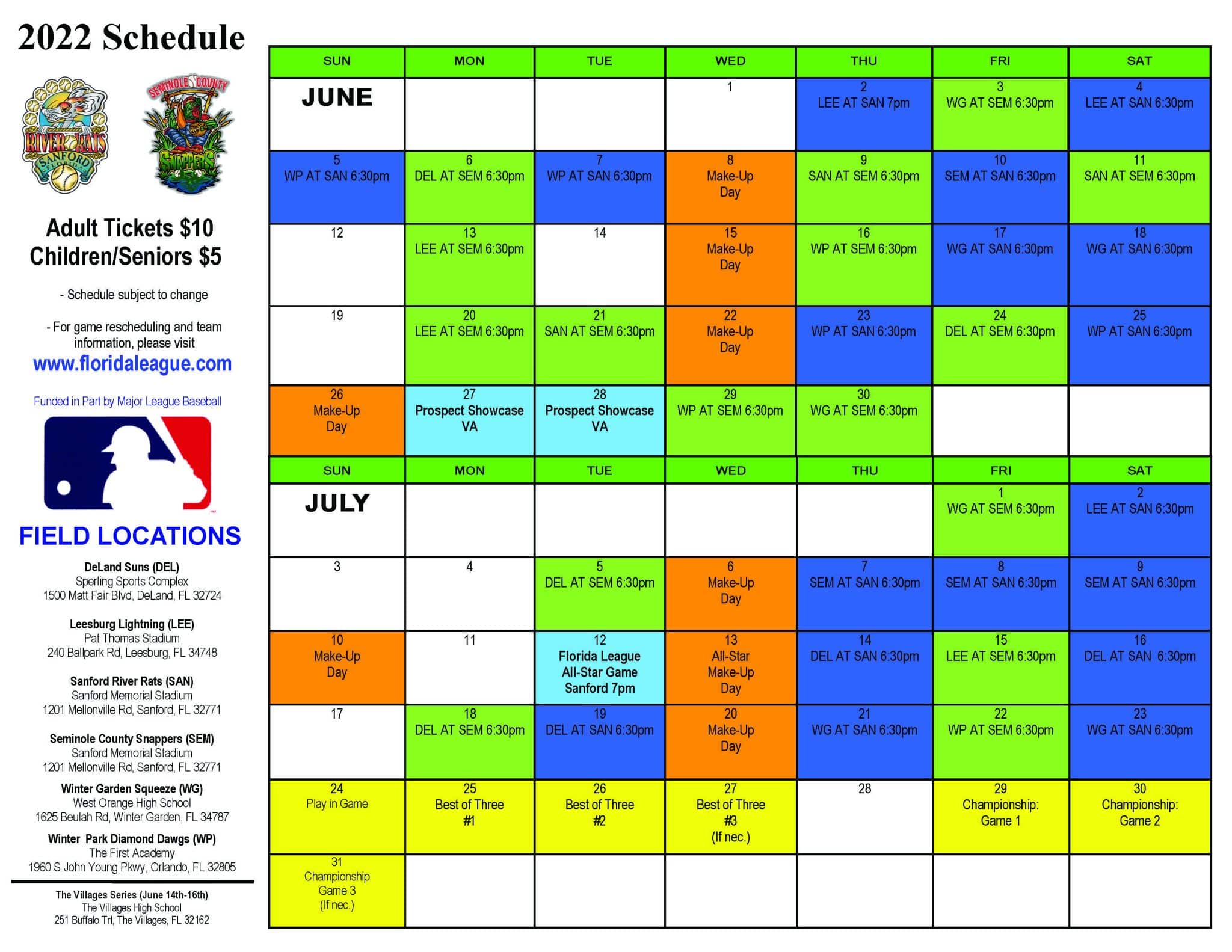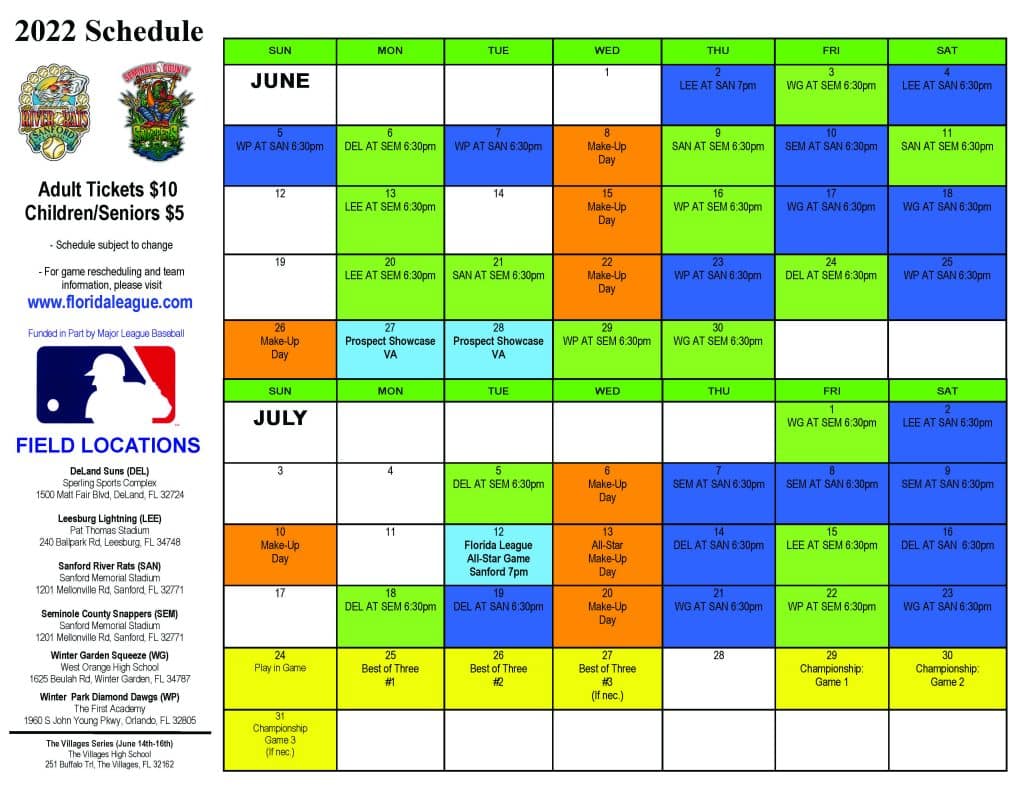 Game dates and times are subject to last minute changes. Please contact the organization or Stadium to confirm game information.
The Buddy Lake multipurpose room is dedicated to Sanford's baseball history. One of the earliest players to use that field was Sanford's own Bernard "Buddy" Lake, who after graduating from Sanford High School in 1930, left to play in the minor leagues. The facility has a kitchen, PA system, restrooms, and a seating capacity of 100. The room is located inside the stadium and is available for rent during most days. Call the Sanford Memorial Stadium to book your next event!