Aquatic Center Location:
2703 Ridgewood Ave.
Sanford, FL 32771
407.302.1034
Pool Hours :

August – May
Monday – Friday, 5 – 7:30 PM
Saturday, 9 AM – 6 PM
Sunday, CLOSED
June – July
Monday – Friday, Noon – 5 PM
Saturday, 9 AM – 6 PM
Sunday, CLOSED
Aquatic Center Fees:

Daily
$3 Adults – $1 Children
3 Month Pass
$40 Single – $90 Family
Annual Pass
$100 Single – $220 Family
Welcome to the Larry A. Dale Aquatic Center!
Developed as a joint project between the City of Sanford, Seminole County and the Seminole County School Board, the Aquatic Center was opened to the public in March of 2000.
In 2001, the facility was renamed the Larry A. Dale Aquatic Center in honor of the former Mayor whose aggressiveness toward the pool project was key in bringing the Aquatic Center to Sanford.
The Myrtha competition pool was built by Weller Pools using many of the same design innovations used in the pools built for the 1996 Olympic Games in Atlanta, Georgia. Featuring eight 50 meter lanes, twenty 25 yard lanes, this state-of-the-art pool can accommodate any aquatic competition in the world, including international water polo and synchronized swimming.
Since opening, the pool has hosted numerous competitive tournaments and events, including high school championship swimming and diving, the 2001 Sunshine State Games, and the 2002 Florida High School State Water Polo Championships.
Open swim is currently available! Swim registration begins May 19th. For more Information on Special Event Rentals or any other information please contact:
Swim Lesson Information
Sessions: Two weeks in length, seven or eight sessions total, Monday through Thursday
Time/Ratio: 30-40 minutes, 8 students per class
Cost: $40 for a two week session

Registration: Begins Wednesday, May 19th for Sanford residents and May 24th for non-residents.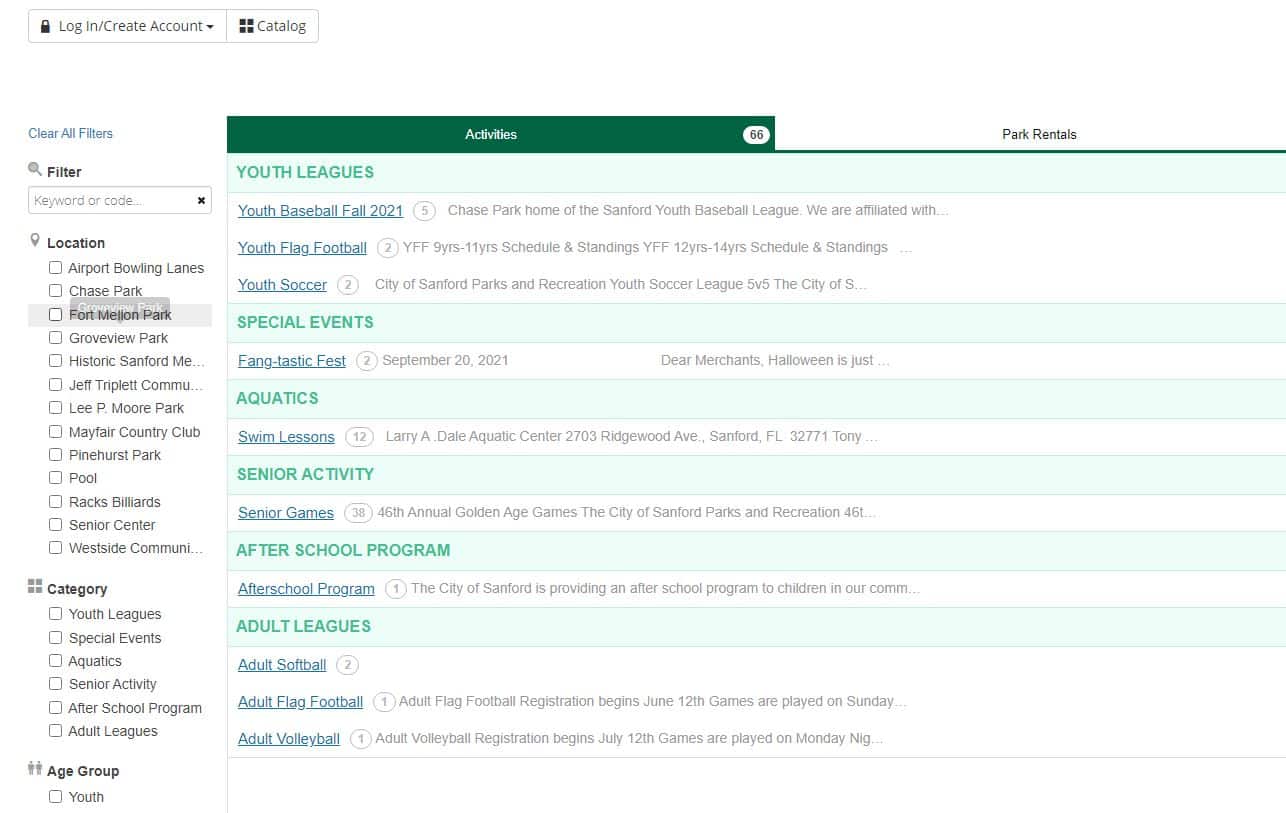 Visit our Online portal to create an account, view swim lesson and schedule availability.
Swim Lesson General Information
There will be a maximum of eight children or adults per class.
Instructors are American Red Cross Water Safety Instructor (WSI) certified. 
Each lesson lasts 30-40 minutes, and lessons are held four times per week (except holidays) daily Mondays through Thursdays.
Participants cannot take multiple classes at the same level or during the same session period; once a child passes a level, they cannot repeat that level.
No refunds for inclement weather; if classes are cancelled due to weather, the instructor will try to condense/ combine the missed skills.
No reserving "blocks" of lessons for friends and family.  Each transaction should be a distinct lesson reservation for one child.
Parents should socially distance on the pool deck while watching a lesson.
We request that parents do not interfere in the lesson, or to try and communicate with their child, as this can harm the learning process (Levels 1 and 2).
If the need exists, we will attempt to add additional classes as the summer progresses.
Please note:  You must choose your child's level carefully; if a child is registered for the incorrect level, based on either an incorrect age or a misrepresentation of the child's ability to swim, the child will not be permitted to take the class, and a refund will be issued.  If you have any questions about your child's placement, please email tony.ackerson@sanfordfl.gov with any questions you might have.
These are the standards for each of the three classes we offer: