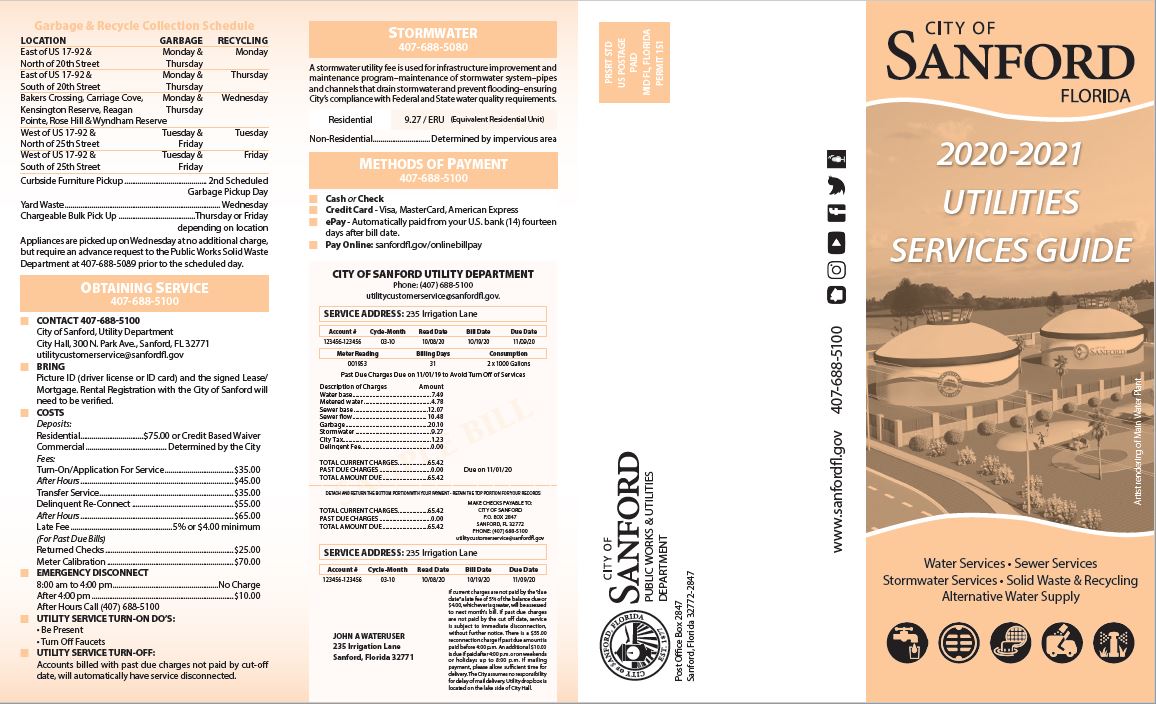 Obtaining Service, Usage Rates, Payment Methods, Alternative Water, Garbage & Recycling
New Customer Applications
The City of Sanford would like to introduce our new digital online application process. All applications in utilities are now digital and can be submitted from your PC or smart phone.  

Please allow 24 to 48 hours, business working days excluding weekends, for all online new applications to be set up.
You Will Need:
Photo ID (Driver's License or ID card)

Signed Lease or Mortgage in your name

Completed New Service application
How to Open a Water Billing Account
All new Residential account holders will need to complete the Application for Residential Water Utility Service. Water accounts can only be made in the property owner's name.

All new Commercial account holders will need to complete the Commercial Application for Utility Service.

New property owners will need to provide proof of ownership (warranty deed or closing statement), a picture I.D. or tax I.D. number for businesses, and will need to place a security deposit.

Deposit amounts vary on meter size, number of meters, and type of water account. Please verify price with the Water Billing office.

Note: Most single-family homes require a $75.00 deposit.
Turn-On/Application For Service

$35

This Fee is in addition to Turn-On and Application Fee

Delinquent Re-Connect

$55

After Hours Delinquent Re-Connect

$10

This Fee is in addition to any Delinquent Re-Connect

*5% or $4.00 minimum (for past due bills)

Emergency Disconnect

No Charge

7:30 AM to 4:00 PM
How to Close a Water Billing Account
To close your water billing account, please fill out the Disconnection of Utilities Form.

You will need your account number, the service address, the date of termination, and the forwarding address for your final bill or deposit refund to be sent to.

Terminations can only be scheduled Monday-Fridays, excluding holidays.
Potential Utility Payment Scam Alert
The City of Sanford takes authorized credit card payments for utility bills via the internet or Click to Gov; telephone and the Customer Service counter. The credit card payment must be initiated by the customer. The City of Sanford will not contact a customer via telephone or the internet to solicit or initiate a utility payment. Please report any unsolicited requests for City of Sanford Utility payment and credit card information to the Sanford Police Department at 407.688.5199 and Utility Customer Service at 407.688.5100 or utilitycustomerservice@sanfordfl.gov.